"I believe that we are now working in the direction of easier software development by means of this integration."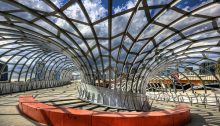 Question:

You have already announced your plan to integrate the architectures of your dedicated game systems. Now that you will release your software on smart devices as well, I would like to hear what kind of challenges Nintendo will need to cope with in this regard. May I ask this question to Mr. Takahashi and Mr. Miyamoto from the software perspective and to Mr. Takeda from the hardware perspective?
Answer:

Takahashi:

For more than 10 years after joining Nintendo I was engaged in software development under Mr. Miyamoto. And under late Mr. Iwata's directions, I was making development environments at a department called the Software Development & Design Department. As a result, I always think in terms of what would be the most appropriate development environment not only for Nintendo's own software but also for third-party developers. As our former president told you before, Nintendo has been internally pushing forward with the project to integrate the development environments in recent years so that it can cater to the needs of the new age. It is by no means an easy task, but I believe that we are now working in the direction of easier software development by means of this integration.

Miyamoto:

Since the Famicom age, it had often been the case that the software developers who were able to thoroughly comprehend the unique techniques to develop software on unique hardware environments were able to create quality software. Now that anyone with a certain level of knowledge can create applications and especially those for smart devices, we would like to deploy a development environment that eliminates waste as much as possible and is applicable to a variety of devices.

Genyo Takeda (Senior Managing Director, Technology Fellow):

I understand that, thanks to the evolution of computer technology, aiming to realize a virtualized software development environment that does not depend on specific hardware is becoming the technological norm today. Simultaneously, regarding input and output technologies, I believe that it is also in line with the current technological trend that Nintendo should challenge itself with the creation of a unique user interface.

— Semi-Annual Financial Results Briefing
Source: Nintendo JP.
At NintendObserver, the comments are on Discord.
Click on Community to learn more. 🙂
…
…Wanna play? Buy a Wii U.
And if you've already got yours, here are all the games already available on the platform. 😀