The Ghost-type Gym Leader, fought only in Pokémon Shield.

☆ NintendObs Event – Pokémon Sword & Shield July 8 Reveals.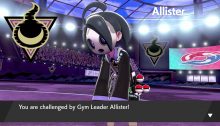 Allister

Allister is a talented Trainer of Ghost-type Pokémon who has taken on the mantle of the Ghost-type Gym Leader at a young age. He's extremely shy and fearful, and he always hides his face with a mask when around other people. He rarely makes public appearances and apparently spends most of his time around ruins or in cemeteries.

Source: Pokémon Sword Shield.
Ici en français : Alistair. 😉
At NintendObserver, the comments are on Discord.
Click on Community to learn more. 🙂
…
And if you've already got yours, click on Pokémon Sword & Shield for everything you need to know about the games. 😀