The Fighting-type Gym Leader, faced only in Pokémon Sword.

☆ NintendObs Event – Pokémon Sword & Shield July 8 Reveals.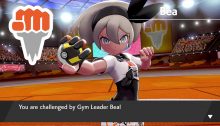 Bea

Bea is a prodigy in Galar karate, carrying on its century-old traditions and techniques. She's also an expert on Fighting-type Pokémon! She's known for her stoicism and very rarely shows her emotions. It seems her battle style remains very precise, even when she's backed into a corner!

Source: Pokémon Sword Shield.
Ici en français : Faïza. 😉
At NintendObserver, the comments are on Discord.
Click on Community to learn more. 🙂
…
And if you've already got yours, click on Pokémon Sword & Shield for everything you need to know about the games. 😀