Chairman Rose and Oleana.

☆ NintendObs Event – Pokémon Sword & Shield July 8 Reveals.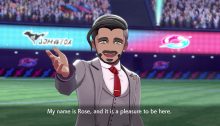 The Galar Pokémon League provides entertainment that ignites the whole region!

Many of the Pokémon battle events in the Galar region, such as the Champion Cup, are managed by a committee, led by Chairman Rose.

Chairman Rose

Rose is the chairman of the Galar Pokémon League and also the president of a large business conglomerate. He's made the Galar Pokémon League world-famous by implementing Gym Battles featuring the Dynamax phenomenon.

He's also the one who first endorsed Leon for the Gym Challenge. It seems he has quite the eye for talent!

Oleana

Oleana is Rose's secretary and is known for her calm and collected personality.

She also serves as the vice president of Rose's company and is in fact largely in charge of the day-to-day running of the company.

Source: Pokémon Sword Shield.
Ici en français : La Ligue Pokémon de Galar divertit toute la région ! 😉
At NintendObserver, the comments are on Discord.
Click on Community to learn more. 🙂
…
And if you've already got yours, click on Pokémon Sword & Shield for everything you need to know about the games. 😀