The North American Squid Research Lab communicating on the Splatoon 2 madness that happened in Japan over the weekend.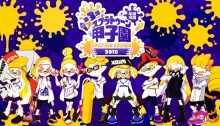 Word from our overseas colleagues is that the Splatoon Koshien 2018 tournament is being held this weekend to determine the top team in Japan! We can't wait to find out which team will take the top spot! We've also heard that "Off the Hook" will be performing live tonight! The event will be livestreamed by niconico, and while the times will be late for those viewing in North America, we imagine there might be a few interested night owls.

If you're interested in watching, please note that a niconico account is required and the livestream is only available in Japanese. Below is the full schedule.

Fri, Feb 9th
~5:00 p.m. PT – Regionals 
http://live.nicovideo.jp/gate/lv310503564

Fri, Feb 9th
~11:59 p.m. PT –  "Off the Hook" concert 
http://live.nicovideo.jp/watch/lv310501424

Sat, Feb 10th
~5:25 p.m. PT – Finals
http://live.nicovideo.jp/watch/lv310503668

— Squid Research Lab
Source: Splatoon's Tumblr.
At NintendObserver, the comments are on Discord.
Click on Community to learn more. 🙂
…
…Wanna play? Buy a Switch.
And if you've already got yours, click on Splatoon 2 for everything you need to know about the game. 😀