A different kind of Classic mode.
☆ NintendObs Weekly – Monday, August 11, 2014 – Sunday, August 17, 2014.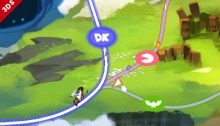 Classic

In Classic mode on the Nintendo 3DS, players choose different paths as they proceed along a map and fight against waiting CPU opponents.

There are many different kinds of matches, including one-on-one fights, team battles with CPU players both aiding and attacking you, matches where you must defeat opponents one after another or in groups, and even more.

When you win a match, you will receive a reward. Besides trophies and gold, you can also receive custom parts.

Fighter Balance

Before starting a game, you can use gold to adjust the intensity level. The higher the intensity, the stronger opponents will be, and the greater a player's rewards will be when victorious.

Stadium

There are three sub-modes in the Stadium: Multi-Man Smash, Home-Run Contest and the all-new Target Blast.

In Target Blast, players have a bomb that will explode 10 seconds after being hit. They must launch this bomb to destroy blocks and targets and score points.

Getting a good score depends on launching the bomb to areas rich with targets, getting the timing of the explosion just right, and using the explosive blocks found around the stage to maximum effect.

Source: Smash Bros.
At NintendObserver, the comments are on Discord.
Click on Community to learn more. 🙂
…
…Wanna play? Buy a 3DS.
And if you've already got yours, click on Super Smash Bros. for Nintendo 3DS for everything you need to know about the game. 😀