North America's latest Splatfest, on the week of Valentines' Day.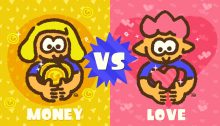 Inkoming Splatfest! But what's the topic, you ask? Well, this time it's about what's more important to you: money or love? Is it about the glitz and glamour of cash money? Or would you rather have a heart full of love (even if your wallet is empty)? Choose wisely, friends! And good luck.

The Splatfest will take place from 2/16 (Fri) 9:00 p.m. PT – 2/17 (Sat) 9:00 p.m. PT.

— Squid Research Lab
Source: Splatoon's Tumblr.
At NintendObserver, the comments are on Discord.
Click on Community to learn more. 🙂
…
…Wanna play? Buy a Switch.
And if you've already got yours, click on Splatoon 2 for everything you need to know about the game. 😀