Check out your friends' Splatfest teams on SplatNet 2.

☆ NintendObs Weekly – Monday, July 31, 2017 – Sunday, August 6, 2017.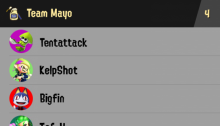 Did you notice that SplatNet 2 displays which side your friends have voted for in the upcoming Splatfest? This is especially helpful if you want to try out Team Battle. As a reminder, Team Battle requires four players (must be friends with someone from the same team who is in the Lobby) to join a private lobby before being matched up against another team of four.

 

— Squid Research Lab
Source: Splatoon's Tumblr.
At NintendObserver, the comments are on Discord.
Click on Community to learn more. 🙂
…
…Wanna play? Buy a Switch.
And if you've already got yours, click on Splatoon 2 for everything you need to know about the game. 😀