Sidekicks, costumes and daily loot.
☆ NintendObs Weekly – Monday, November 17, 2014 – Sunday, November 23, 2014.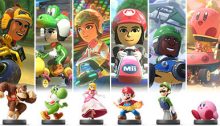 Super Smash Bros. for Wii U

Customize your amiibo™ figure as the ultimate sidekick, and level it up to CRUSH your opponents.

Train your amiibo to supercharge its stats and expand its abilities.

Customize your amiibo by adjusting its attack, defense and speed stats.

Fight your amiibo against a friend's to make them tougher and see who the best trainer is.*

Team up with your amiibo, or battle against friends in multiplayer amiibo action.*

Source: Nintendo.
Mario Kart 8

Receive special racing suits for your Mii™ character based on each amiibo character's look.**

Dress up your Mii like fan-favorite characters such as Mario, Yoshi, Kirby or even Samus Aran.

Currently compatible with the following amiibo figures: Mario™, Luigi™, Peach™, Yoshi™, Donkey Kong™, Link™, Captain Falcon, Kirby™, Samus™, Fox.

Source: Nintendo.
Hyrule Warriors

Tap the Link™ amiibo figure to receive a new weapon to use in battle: the Spinner from The Legend of Zelda™: Twilight Princess game.

Tap the Zelda™ amiibo figure once per day to get a weapon rated 3 stars or higher.

Tap any other amiibo figure once per day to get a weapon rated 3 starts or lower, Rupee bonus or crafting material bonus.

Software update coming in late November 2014 will add amiibo functionality.

Source: Nintendo.
At NintendObserver, the comments are on Discord.
Click on Community to learn more. 🙂
…
…Wanna play? Buy a Wii U.
And if you've already got yours, here are all the games already available on the platform. 😀