Splatfest exclusive stages.

☆ NintendObs Weekly – Monday, July 31, 2017 – Sunday, August 6, 2017.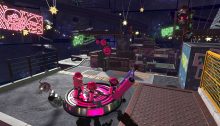 Breaking News! A special stage called Shifty Station will be added to the rotation during Splatfests! It appears to be exclusive to Splatfest battles, and apparently the stage design can even change from Splatfest to Splatfest.

— Squid Research Lab
Source: Splatoon's Tumblr.
At NintendObserver, the comments are on Discord.
Click on Community to learn more. 🙂
…
…Wanna play? Buy a Switch.
And if you've already got yours, click on Splatoon 2 for everything you need to know about the game. 😀