Bisk and Shella Fresh.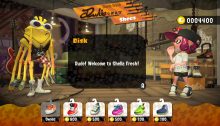 Hey, it's Bisk the spider crab! He's also the proud proprietor of Inkopolis Square's premier shoe shop, Shella Fresh. His many long limbs welcome customers one and all, and he exudes the type of laid-back cool you just can't teach.

— Squid Research Lab
Source: Splatoon's Tumblr.
At NintendObserver, the comments are on Discord.
Click on Community to learn more. 🙂
…
…Wanna play? Buy a Switch.
And if you've already got yours, click on Splatoon 2 for everything you need to know about the game. 😀