The Goo Tuber.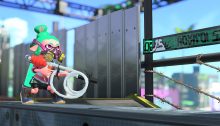 We're proud to reveal our findings on the Goo Tuber, a charger with the upgraded ability to store your charge even longer. Intel from Sheldon is that it offers high-pressure ink storage for extended periods, allowing you to stay submerged while you wait for the perfect shot! In exchange, it takes a bit longer to charge, but you can push your foes back with the Suction Bombs sub. You can stay on the move with one in the chamber, and when the enemy decides to close in, make 'em pay with a Splashdown surprise!

— Squid Research Lab
Source: Splatoon's Tumblr.
At NintendObserver, the comments are on Discord.
Click on Community to learn more. 🙂
…
…Wanna play? Buy a Switch.
And if you've already got yours, click on Splatoon 2 for everything you need to know about the game. 😀