Jelfonzo and Ye Olde Cloth Shoppe.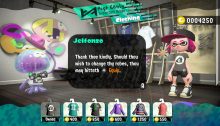 This Jellyfish gentleman goes by the name Jelfonzo, and he runs Ye Olde Cloth Shoppe. And check out his origin story: one day he just split off of Jelonzo in Inkopolis Plaza, and there he was! I think that makes him Jelonzo's son? He apparently learned to speak Inkling from an ancient text of some sort, so his speech sounds a bit outdated (to say the least). But don't let that fool you. When it comes to fashion, this dapper dude is always up on the hottest trends.

— Squid Research Lab
Source: Splatoon's Tumblr.
At NintendObserver, the comments are on Discord.
Click on Community to learn more. 🙂
…
…Wanna play? Buy a Switch.
And if you've already got yours, click on Splatoon 2 for everything you need to know about the game. 😀