Right in time for the Global Testfire.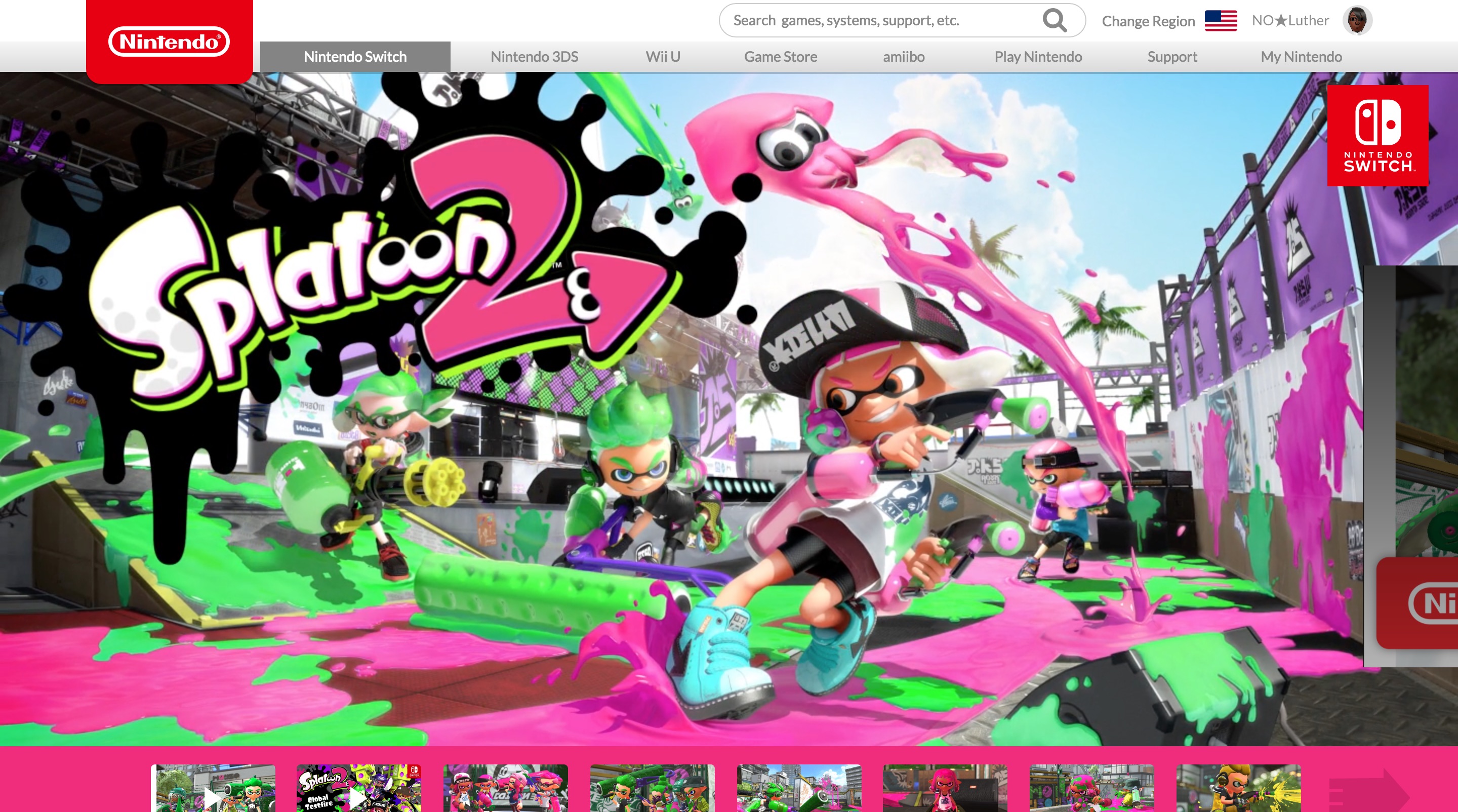 Ink-splatting action is back and fresher than ever

Get hyped for the sequel to the hit game about splatting ink and claiming turf, as the squid-like Inklings return in a colorful and chaotic 4 vs. 4 action shooter. For the first time, take Turf War battles on-the-go via local multiplayer in portable play styles. You can also compete in frenetic online matches like before.

Two years have passed since the release of the Splatoon game, and two years have also passed in the game world, leading to an evolution in fashion trends and new styles of weapons and gear. Staying fresh never looked so good.

Dive into these totally squid-tastic new features:

New weapons

New dual-wielding Splat Dualies join the action, complete with a new Dodge Roll move. Mainstays like the Splat Roller and Splat Charger have also been remixed to include new gameplay mechanics and brand-new special weapons.

Local and Online Multiplayer

In a first for the series, compete in local multiplayer Turf War battles, whether in TV mode or on-the-go in handheld or tabletop modes. Online battles also make a return.

New ways to play

Play using the Joy-Con™ controllers or the Nintendo Switch™ Pro Controller (sold separately), both of which allow for gyro controls for better aiming and control.

New Trends

Two years have passed since the release of Splatoon in real life, and two years have also passed in the game world. Some familiar characters return under different circumstances, and new characters are introduced as well.

Fresh Updates

Similar to Splatoon for the Wii U™ console, updates will roll out post-launch, adding new content.

Smart Device Support*

An upcoming smart-device application for the Nintendo Switch system will enhance matchmaking and allow for voice chat options.

Turf War

Iconic 4 vs. 4 Turf War battles return. The goal is to splat ink on as much territory as possible, while strategically submerging yourself in your team's colors and blasting your enemies.

LAN Play

Up to 10 docked systems – eight players and two spectators – can connect via wired LAN. This feature allows players to create local Private Battle tournaments without the need for an internet connection. Local wireless play is perfect for your regular gaming get-togethers, but LAN Play is where it's at when you want to organize a serious tournament event with your fellow players. (Additional accessory required. Sold separately.)

Source: Splatoon Nintendo.
At NintendObserver, the comments are on Discord.
Click on Community to learn more. 🙂
…
…Wanna play? Buy a Switch.
And if you've already got yours, click on Splatoon 2 for everything you need to know about the game. 😀