Beware. Two of the sets are actually different from what they are in the videos. 
☆ NintendObs Weekly – Monday, March 20, 2017 – Sunday, March 26, 2017.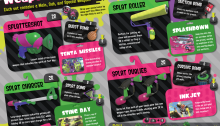 The Splatoon 2 Global Testfire starts tomorrow at Noon PT.

To help prepare test subjects, we've created these controls & weapon overviews:

Research can be conducted with either a Nintendo Switch Pro Controller or Joy-Con controllers. Or even on-the-go in handheld mode (assuming you have a strong wireless Internet connection).

Also, don't forget that an important step in the scientific method is to make observations. We recommend capturing your findings with the Capture button on the Joy-Con or Nintendo Switch Pro Controller, then later sharing it with your peers in the scientific community. When publishing your research, use the octothorp symbol (#) followed by "Splatoon2" or "Testfire."

Good luck to all participants!

— Squid Research Lab
Source: Splatoon's Tumblr.
At NintendObserver, the comments are on Discord.
Click on Community to learn more. 🙂
…
…Wanna play? Buy a Switch.
And if you've already got yours, click on Splatoon 2 for everything you need to know about the game. 😀