…And I could not connect due to server issues. This is SO infuriating… 
☆ NintendObs Weekly – Monday, March 20, 2017 – Sunday, March 26, 2017.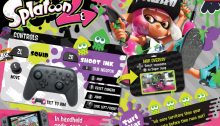 The Splatoon 2 Global Testfire starts today on Nintendo Switch!

Play Splatoon 2 for free this weekend!

Version française ici : L'événement Splatoon 2 Global Testfire débute aujourd'hui sur Nintendo Switch ! 😉

24/03/2017

Inklings, form up. The free Splatoon 2 Global Testfire demo* event kicks off today at 19:00 GMT!

Still not prepped? All you need to be able to take part is a Nintendo Switch, an internet connection, a Nintendo Account and the free software from Nintendo eShop.

You can even download the Global Testfire demo directly to your Nintendo Switch via the Splatoon 2 gamepage** right now.

Here's the full timetable. The clocks change on Sunday so be careful!

Friday 24th March

Saturday 25th March

Sunday 26th March

During the Global Testfire you'll be able to take part in 4-on-4 Turf War action in Musselforge Fitness and The Reef. These two stages will be randomly chosen throughout the event so make sure you try them both out!

As for weaponry, the new awe-inspiring Splat Dualies are available, as well as remixed versions of the Splat Roller, Splat Charger and of course the trusty Splattershot. There are Sub weapons and Special weapons to try too!

Wondering how to play? The below infographic is sure to help (thank goodness for infographics). Will you play on the TV, tabletop or in handheld mode? The choice is yours!

Need to create a Nintendo Account? We've got you covered. Simply head on over to the Create a Nintendo Account page and follow the instructions. Once you have that you can download the software from Nintendo eShop on your Nintendo Switch or via the Splatoon 2 gamepage**.

Enjoy the Testfire, Inklings!

— Nintendo UK News
Source: Nintendo UK.
At NintendObserver, the comments are on Discord.
Click on Community to learn more. 🙂
…
…Wanna play? Buy a Switch.
And if you've already got yours, click on Splatoon 2 for everything you need to know about the game. 😀