The final part of an interview for which a special someone will be dearly missed. 
☆ NintendObs Weekly – Monday, July 4, 2016 – Sunday, July 10, 2016.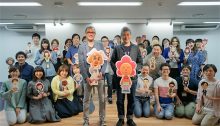 Part 6: You Yourself Are the Content

Itoi:

What do you think of the continuity of "Miitomo," in other words, that it will continue going on into the future.

I think that no matter how interesting a game is, after you play it for a concentrated amount of time you find yourself one day realizing "I haven't played that game in a while."

Sakamoto:

Personally, I think it is okay if you don't play it for a while and then one day you remember it and enjoy taking a look at the game.

However, currently, the numbers display how many people start up the game each day, so one of our initial goals has to be to make sure that people open up the game everyday.

In order to do that, we have to see how many "fun" and "cute" things we can propose each day.

That is one of the demanding parts.

Itoi:

When "Miitomo" came out I played it very proactively.

And this might just be a problem with me, but while I was playing it everyday, I felt weighed down by the thoughtfulness of the creators.

Sakamoto:

Ahh.

Itoi:

At the time I thought "you didn't have to be so thoughtful."

Sakamoto:

Hmmmm.

Itoi:

Let's say that you have a bar you regularly go to.

And when you go there, the bar owner always asks "what happened today", and you think "just let me be."

I got into that mode.

Then some distance grew between me and the game.

This is my first time experiencing something like this with a game.

You made so much that it weighed me down.

Sakamoto:

I can understand what you are saying.

I have heard similar opinions before.

Itoi:

Oh, you have?

Sakamoto:

While I can sympathize with that, but during development one of my hobbies was to put in a bunch of comments to someone's answer.

I was in the game every day, outside of work, to do that.

My feeling was that if someone said something interesting I'd make it into a joke.

Itoi:

I also sometimes play like that.

Sakamoto:

So there isn't just one way to play.

Also I think that how you feel about the game is different depending on the person.

Itoi:

Yes.

Sakamoto:

I don't think that you should think that it's inevitable because people are different. I think instead you need to think about what you can do to ensure that everyone can experience the fun of "Miitomo" itself.

Itoi:

I do really think that everyone is different.

For example, if you ask people "have you had your heart broken recently?" some people may think "I wanted someone to ask me that," and other people may think "don't ask me that."

I think it must be quite difficult to have everyone do different things on the same platform.

Sakamoto:

Yes.

Itoi:

The app that we were working around the same time as "Miitomo," "Dokonoko," is an application that shows pictures of cats and dogs all over the world.

Then, when "Miitomo" came out, I felt that the capacity and quality of the application was very impressive.

On the other hand, the only thing we are doing is posting photos of cats and dogs, so when we compare the apps I feel like we are getting off easy.

And we can take it easy because with cats and dogs, the photos themselves are the content.

So a cat with a strange face is still interesting when you see it tomorrow, and the photo doesn't lose its power.

On the other hand, "Miitomo" always has to take users by the hand.

The energy needed to do that are impressive.

But, conversely, when I think that maybe creating stuff without expending a lot of energy is a distinctive feature for us, then when I think about the future of "Dokonoko" I think it might be better to not think too much about making it better.

Then, thinking about it from the same point of view, "Miitomo" has its own way of making energy adjustments.

Sakamoto:

Energy control.

That is an interesting point.

I took a look at "Dokonoko", and I thought that at the heart of it there was emotion and also the pleasantness that comes with seeing dogs and cats.

And in "Miitomo", you look to the Mii to supply that.

Itoi:

Ahh, that may be it.

The various Mii characters become the content…

But even saying that, and I just realized it now, maybe I dress my Mii up in costumes because I want to become the content in the game.

My ideal is to make things interesting by just being there.

Sakamoto:

Me too.

Itoi:

Yeah.

You did have your hair in dreadlocks before.

Sakamoto:

Yes. (laughs)

Itoi:

Just as I dressed up as a baby and swung an ax around in "Animal Crossing," I think "Miitomo" might also become more fun by adding everyone's creative ideas to the individual Mii.

Sakamoto:

That's what I want to happen.

Itoi:

It would be great if that's what happened.

Sakamoto:

You become even more appealing as content yourself.

Itoi:

That's like in life.

If you are interesting, then the other party will want to meet you. It's like that.

Sakamoto:

Yes.

Itoi:

Oh, that's interesting.

It would be fun if I could talk about this with Mr. Iwata now.

Sakamoto:

Yes.

Itoi:

I'm sure a lot of the things that Mr. Iwata thought about are contained in here.

The fact that you can't do that is… vexing.

Sakamoto:

Yes, very.

While creating "Tomodachi Collection" I often spoke with Mr. Iwata, but during the creation of "Miitomo" I was not able to have very deep conversations with him, perhaps due to his condition.

There were a lot more things I had wanted to ask him.

Itoi:

Yes.

Sakamoto:

Also, in terms of our plans going forward, I definitely to talk with you and the members of Hobonichi (Hobo Nikkan Itoi Shinbun) about interesting things we could do using "Miitomo."

Itoi:

Oh, it seems like we could do something.

It might be interesting if there was a way to enjoy communication in which you don't know what would happen and this would be centered around "Miitomo."

Sakamoto:

Yes.

While continuing to work on the appeal of the Mii themselves, I think I also want to pursue the possibilities of using "Miitomo" as a tool.

Itoi:

There are possibilities.

Sakamoto:

Yes. I went to look into that potential.

(This ends this conversation between Yoshio Sakamoto and Shigesato Itoi. Thank you for reading until the end.)

Source: Miitomo.
At NintendObserver, the comments are on Discord.
Click on Community to learn more. 🙂
…
…Wanna play? Buy a 3DS.
That being said, click on Miitomo for everything you need to know about the game. 😀