The new Mario & Sonic game's soundtrack's been recorded in Brazil, in the very city where the Olympics will take place.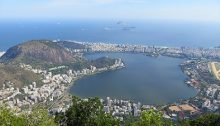 Friday Jun 17, 2016

(Hi guys – Aaron here! Today, we have a special interview for you from Sonic Team! Often the Sonic Team website in Japanese will get some really cool interviews, but they rarely get properly translated into English. We hope you enjoy this one! Now, on to your regularly scheduled blog post…)

Hello everyone! I'm Ohtani, the sound director for the Sonic series.

This is a special entry for the release of Mario & Sonic at the Rio 2016 Olympic Games™ (Nintendo 3DS), released February 18th. I'll be interviewing the two sound directors of the project about the concepts of the songs, behind-the-scenes stories, highlights on what they feel the best parts of the songs are and so on! It's our first try at an interview sound column, so let's see how it goes!

Ohtani: Hello Mr. Nakagawa and Mr. Tokoi. Can we have a quick introduction?

Nakagawa: Hello, I'm Teruhiko Nakagawa. I am the sound director for the Nintendo 3DS version Mario & Sonic at the Rio 2016 Olympic Games.

Tokoi: Hello, my name is Kenichi Tokoi. I'm the sound director for Mario & Sonic at the Rio 2016 Olympic Games for the Nintendo Wii U.

O: Mr. Nakagawa was the sound director for the Sonic Rush series and Sonic Colors on the Nintendo DS, and Mr. Tokoi started his career from the Sonic Adventure series and has been involved with to many other Sonic titles as well. You could say that they both have a long relationship with Sonic. Actually, you guys have worked on almost all of the Mario & Sonic titles right?

N: Yes, I've been with Mario & Sonic since the first title, Mario & Sonic at the Beijing 2008 Olympic Games.

T: I started with the second title of Mario & Sonic, Mario & Sonic at the Vancouver 2010 Olympic Winter Games. 

N: Yes, since then we've been working together on the Mario & Sonic series, London, Sochi and this fifth title, Rio.

Brazilian music as concept.

O: Let's start this off by talking about the concept of the music for this game.

N: This is the first Olympic Games held in Latin America and since Brazil is known for their samba music, we felt that we should go with Brazilian music this time.

O: And it was okay to move forward, just like that?

N: Yep, there was no objection.

T: Well, it's Rio! We started by researching what sort of music is in Brazil. At the beginning of the project everyone shared different types of music that they felt Brazilian and studied what Brazilian music is.

N: At first we thought, Brazil and Cuba are both are Latin right? But as Tokoi and I kept researching…

T: There were specific rhythms. We had a Brazilian percussionist listen to our music samples and he commented "This song has Cuban rhythm". We didn't have a clue what samba supposed to feel like.

N & O: (laugh)

T: Thus our crucible began.

N: Yeah, Tokoi then said, "We need to go to Brazil and record." It took me by surprise.

O: He probably wanted to record the real Brazilian sound.

T: It got me curious, what is samba? I needed to listen to the real thing.

O: There are few songs that have been recorded overseas but has anyone at Sega recorded in Brazil?

T: No, I don't think so.

Recording in Brazil

N: So, we went to Rio de Janeiro about one year ago.

T It was two weeks before the Rio Carnival; we were there for about 10 days to the end of January. The Rio Carnival was held from February 14-17, last year.

O: You could complete recording in that time frame?

T: Yes, it was crazy. I can't believe we managed to get everything. It was all about samba around town, even at our hotels, the outfits, the decorations were all samba.

O: That must have been some time to start recording.

N: Yeah, everyone is gone when the carnival starts, so we needed to do it before.

T: Yes, the Bateria band (percussion group that performs samba music) that we had for this recording was practicing for the carnival coming up. They kindly agreed to perform for us in between their practice, it must have difficult to juggle their time but they recorded with us nonetheless.

O: Yeah, samba is known for their unique rhythm.

N: We definitely wanted the Brazilian feel and rhythm, which was our priority. We were able to incorporate many local musicians; we had wind instruments, brass sections, and a Brazilian string instrument called Cavaquinho, a six string guitar, electric bass, harp, a mixed chorus and an accordion. It was great that the guitarists were Brazilian; I realized afterwards that even the bassist was playing with a Brazilian rhythm. I had composed the song with a Latin rhythm and soon found out our bassist had difficulty playing, until we changed it to a Brazilian rhythm.

O: I see, and you recorded not only a percussion section but also an orchestral piece at Brazil. What kind of music did you record?

N: The main theme would be the biggest part, which is included in both Mario & Sonic at the Rio 2016 Olympic Games 3DS and Wii U. We also recorded arranged versions of the song as well.

O: The song playing in the main title screen. 

N: Yeah, it's used in the main title screen, replays, and staff credits etc. We've used the main theme in places that represents the game overall. Also in the 3DS version, I composed the theme for Pocket Marathon. All of these were recorded in Brazil. Well the rest is a little surprise for later but when you clear the game, the song used there is also recorded in Brazil.

O: Oh, that sounds nice!

From winter in Japan to summer in Rio

N: We had a layover in New York before we arrived in Rio de Janerio. It was midwinter in New York and it was freezing cold. New York was much colder than Tokyo and so we were prepared for that, but as soon as we traveled south pass the equator it was the complete opposite. We were told shorts and sandals are a must, and it definitely is.

T: Yeah we wore flip-flops everywhere. Everyone was wearing them.

N: The overall atmosphere at Rio was casual. It wasn't really scary; we walked around drinking and watching soccer and such. It is a tourist destination, so everyone was pretty casual.

T: Yeah even the musicians that joined us in the recording sessions were pretty easy-going and casual.

N: We booked one of the nice beach-front hotels on the famous Copacabana beach. The studio was about a five minute walk from the hotel.

O: Oh I'm jealous. I wish you guys brought me with you. Haha. 

Recording of Bateria

O: So, how was recording with the Bateria group?

T: So for our recording, we had members from Unidos Da Tijuka and Salgueiro, winning teams from 2014 to play the base part for a day. We started with the main theme, but it took longer than we expected, so we talked about how to proceed and figured out the parts along the way.

O: How did you record the catchy part of the song? Have you decided the parts beforehand and planned accordingly?

T: We did have it planned, but we recorded it last. We had lots of catchy parts that everyone contributed so we recorded and kept these parts. We figured it's easy to record all the base parts first, so we kept to that method and put it together later.

O: So you recorded all of the basic patterns first and then recorded other orchestra sessions.

T: Yes, after that recording went pretty smooth. In Brazil, apparently there's a genre category called AXE and our main theme belongs in that genre.

N: Yeah, apparently it's pop-like samba.

O: Oh, are there any changes to how you approach the music when it's AXE?

T: We follow a basic Bateria rhythm and then we expand it further. Like the leader of the group will listen to the music and communicate to the other members how they should play and bam, they play it in their first try. The leader figures out the beat each part and the other members follow the lead. It's pretty quick once it's decided. The parts have a unique dialect or local accent and it sounds deviating to us but when put together everyone plays perfectly together.

O: So what you're saying is that they all have the same deviation or dialect of rhythm?

T: Yes, the deviation is just all the same.

N: I guess it's hard for the Japanese to reproduce.

T: Yeah, that's hard.

O: How is the rhythm different?

T: The second beat is stressed. The Brazilian music has two-four metre and the second beat is stressed. The rhythm is like "weak-strong, weak-strong" and the stressed second beat sounds like deviating to us. The first beat is weak and the second one is always strong. All of the musicians there naturally stressed on the second beat. In the Japanese rhythm of music, we tend to stress the first beat but in Brazil, the stress always comes on the second beat. So the tempo is quite different.

O: You mean the blank between the first and second beat is different from the Japanese music?

T: Not only the blank but the second beat itself too… Well, it's difficult to explain. It is very unique dialect or accent of music. It's so hard to describe!

O: That must be the secret of samba's characteristic groove.

The OK sign

N: I really liked that everyone did this thumbs up sign when we were talking about things and they wanted to sign off an "OK". Not just the musicians we worked with, but the people in Rio around the city too. It gave a warm feeling, like while we're recording after explaining to the conductor about the music they always showed the thumbs up sign to signal they got it. I guess it's the language barrier; it made me feel relieved when I saw the sign that he understood what I was trying to say.

T: All of the performers expressed themselves very clearly.

O: It's very important to communicate with each other for a good recording and I see that the communication there went well.

Well, I hope you're feeling a lot more in the Brazilian-mood!

We recorded the conversation of 3 people, but it's already too long, so we'll update the rest next week. In Special Entry for Mario & Sonic at the Rio 2016 Olympic Games™! Sound Interview [Part 2], we'll be talking about the background story of the main theme development and some of the creative process of the BGM, so please check it out!

See you then!

— RubyEclipse at SEGA
Source: SEGA Blog.
At NintendObserver, the comments are on Discord.
Click on Community to learn more. 🙂
…
…Wanna play? Buy a Wii U.
And if you've already got yours, click on Mario & Sonic at the Rio 2016 Olympic Games for everything you need to know about the game. 😀