Introducing the new "Splatling" category.
☆ NintendObs Weekly – Monday, August 3, 2015 – Sunday, August 9, 2015.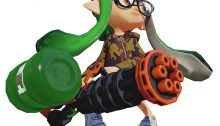 More breaking update news! The Splatling is a new main weapon type. After charging up Splatling weapons, they can spray a rapid-fire barrage of ink at blinding speed. While this charge time can be tricky to account for, few can compete with their attack power and shot range.

— Squid Research Lab
Source: Splatoon's Tumblr.
At NintendObserver, the comments are on Discord.
Click on Community to learn more. 🙂
…
…Wanna play? Buy a Wii U.
And if you've already got yours, click on Splatoon for everything you need to know about the game. 😀