The Neo Sploosh-o-matic.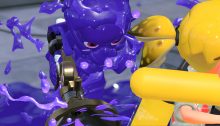 It appears that a new weapon will be making a sploosh at Ammo Knights tonight prior to Splatfest. The Neo Sploosh-o-matic has the same close-combat functionality as the Sploosh-o-matic, but with a neat, custom look. Some may even say that it has a neo look, ha! A good kit for strategists, this kit also comes with the Squid Beakon sub weapon to help your teammates Super Jump in, and Tenta Missiles to lay down covering fire.

— Squid Research Lab
Source: Splatoon's Tumblr.
At NintendObserver, the comments are on Discord.
Click on Community to learn more. 🙂
…
…Wanna play? Buy a Switch.
And if you've already got yours, click on Splatoon 2 for everything you need to know about the game. 😀