A very special kind of Shifty Station.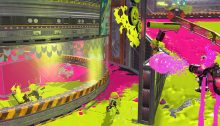 Just in! Details on the Shifty Station layout for this weekend's Splatfest. Containment chambers will drop down after a certain time and seclude part of the stage. It appears you cannot ink the secluded area from the outside, leading us to believe that whichever team gets access to the containment areas as they close down will gain the edge in turf coverage.

— Squid Research Lab
Source: Splatoon's Tumblr.
At NintendObserver, the comments are on Discord.
Click on Community to learn more. 🙂
…
…Wanna play? Buy a Switch.
And if you've already got yours, click on Splatoon 2 for everything you need to know about the game. 😀