Splatlings in action.
☆ NintendObs Weekly – Monday, August 3, 2015 – Sunday, August 9, 2015.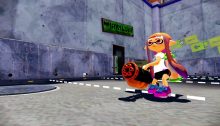 SAY HELLO TO MY LITTLE FRIE– Er, I mean, check out this footage of a Splatling Weapon that Intern Jared was able to capture.

— Squid Research Lab
Source: Splatoon's Tumblr.
At NintendObserver, the comments are on Discord.
Click on Community to learn more. 🙂
…
…Wanna play? Buy a Wii U.
And if you've already got yours, click on Splatoon for everything you need to know about the game. 😀