"There's a lot in the Dakko Dakko pipeline, and we're working hard to get our next game ready to reveal very soon."
☆ NintendObs Weekly – Monday, May 18, 2015 – Sunday, May 24, 2015.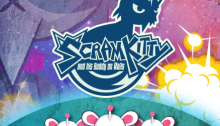 19/05/2015

Now available on Nintendo eShop for Wii U, Scram Kitty and His Buddy on Rails has received a free update to version 2.0, adding in a host of new features. Rhodri Broadbent of developer Dakko Dakko lets the cat out of the bag…

So, a free update is now available for Scram Kitty and His Buddy on Rails that upgrades the game to version 2.0. What are some of the biggest improvements in the update?

The biggest addition is the optional new ability to aim freely using the right analogue stick. Players are now able to move one direction whilst shooting another if they choose to use the new controls. Of course, the original 'straight shooter' controls remain in place – players can choose to switch freely during gameplay.

Aside from that new control option, we've tuned and balanced many little bits of the game, improved some of the enemy AI, and relaxed the speed restriction when shooting, so that players can 'run and gun'! It's the same game, but with some refreshing new options for play!

Scram Kitty has been available on Wii U for some time now. What prompted you to create such a significant update?

At Dakko Dakko we are often experimenting with ways we can add new experiences to our games and bring new fun to our players. I've been working on the 'split arms' controls for a long time, and the new abilities are the sort of thing which could have been turned into a sequel for the game, but as Scram Kitty was approaching its anniversary on Nintendo eShop, as a way to thank our many players I wanted to release the new options as a free update to the existing game. This way, anyone who has played Scram Kitty can enjoy re-playing in a whole new way – or can of course still play using the original controls if they wish! – and new players get more choices right from the start. It's been a really fun and rewarding process to make and release this update.

How would you say the changes improve the game for newcomers?

Playing the game with the standard controls involves a tight relationship between your position in the stage and the enemies you need to target. Players need to constantly be thinking a few steps ahead to stay on top of the mice attacks without getting hurt! Some players found it challenging to keep this relationship balanced. The added freedom of the 'twin stick' controls in this update mean that players are able to dodge whilst still shooting at the enemies. New players especially will appreciate the added freedom to attack enemies from more positions in the stage.

And what's now on offer for fans who have played through the game already?

As a very experienced Scram Kitty player myself – as you'd expect! – I'm very happy to say that the update gives 'pro' players a lot more options for flair and stylish play. The increased movement speed whilst shooting, the burst shots at the start of each stream of bullets, and the freedom to shoot straight ahead using both arms, or to shoot sideways with reduced fire-power but increased freedom, provides the same core challenge but with new ways to approach it. We have also tweaked and tuned many encounters in the game so that 'Past Masters' of Scram Kitty will find the game refreshed if they choose to use the new controls available to them. Of course, as the person with perhaps the strongest attachment to the original controls myself, I've ensured that they remain in place and actually now feel better than ever.

Scram Kitty has a reputation for being very challenging. For both veteran players and newcomers, what advice would you give to anyone looking to master the game?

The first and most important thing is to remember that there's no gravity in our game! Jumping around the magnetic space station takes a short time to master, and learning to understand how you are going to be magnetically pulled back towards the rails is key to confident movement. When you get the hang of it you can move around stages with great speed and skill, and with the new update it's possible to move much more freely even when shooting, so even faster, more satisfying battles with the hordes of mice are possible! Mastering the weapons is important, and with this update we've given players greater freedom to do that in a style that suits them.

What more can Nintendo fans look forward to from Dakko Dakko in the future?

Well I'm sure you know I can't go into details just yet but I can say that we've had a great year on Nintendo eShop and we hope to have many many more. There's a lot in the Dakko Dakko pipeline, and we're working hard to get our next game ready to reveal very soon. I'd like to take this opportunity to thank all of our players for their interest in Scram Kitty and his Buddy on Rails, and I hope they enjoy celebrating the game's anniversary with this update.

— Nintendo UK News
Source: Nintendo UK.
At NintendObserver, the comments are on Discord.
Click on Community to learn more. 🙂
…
…Wanna play? Buy a Wii U.
And if you've already got yours, click on Scram Kitty and His Buddy on Rails for everything you need to know about the game. 😀