❤

☆ NintendObs Event – Pokémon Direct 6.5.2019.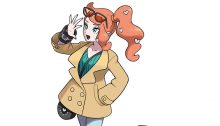 Sonia

Sonia is the granddaughter of Professor Magnolia, and she's Leon's childhood friend. She's also a young researcher, who serves as assistant to Professor Magnolia. She's very knowledgeable and will offer helpful advice to aid you on your adventure!

Source: Pokémon Sword Shield.
Ici en français : Sonya. 😉
At NintendObserver, the comments are on Discord.
Click on Community to learn more. 🙂
…
And if you've already got yours, click on Pokémon Sword & Shield for everything you need to know about the games. 😀