Pokémon Gyms are some of the few places where Pokémon can Dynamax.

☆ NintendObs Event – Pokémon Direct 6.5.2019.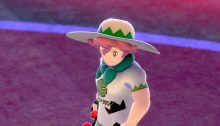 Gym Leaders and Dynamax Pokémon

There are stadiums that hold Pokémon Gyms throughout the Galar region. Each Gym attracts Pokémon Trainers that are experts in specific types.

In order to challenge the Champion, you and your rivals will need to defeat the top Trainer for each Pokémon Gym, who is known as the Gym Leader. The battles with these Gym Leaders often involve intense clashes between Dynamax Pokémon.

Spectators will flock to the Gyms' stadiums to view these battles, and the matches are broadcast on television as well.

Milo

Source: Pokémon Sword Shield.
Ici en français : Les Champions d'Arène et les Pokémon Dynamax. 😉
At NintendObserver, the comments are on Discord.
Click on Community to learn more. 🙂
…
And if you've already got yours, click on Pokémon Sword & Shield for everything you need to know about the games. 😀