A refresher on the dream team. (Though someone at time of posting has recently announced his retirement.)

☆ NintendObs Event – Nintendo Q3 FY3/2019.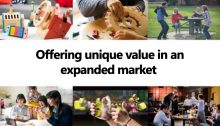 Directors (Members of the Board)
Representative Director and President
Shuntaro Furukawa
Representative Director,
Fellow
Shigeru Miyamoto
Director,
Senior Managing Executive Officer
Shinya Takahashi
Directors,
Senior Executive Officers
Ko Shiota
Satoru Shibata
Director
(Audit and Supervisory Committee Member)
Naoki Noguchi
Outside Directors
(Audit and Supervisory Committee Members)
Naoki Mizutani
Katsuhiro Umeyama
Masao Yamazaki
Executive Officers
Senior Executive Officers
Shigeyuki Takahashi
Satoshi Yamato
Hirokazu Shinshi
Executive Officers
Reginald Fils-Aime
Yoshiaki Koizumi
Takashi Tezuka
Hajime Murakami
Source: Nintendo JP.
At NintendObserver, the comments are on Discord.
Click on Community to learn more. 🙂
…
…Wanna play? Buy a Switch.
And if you've already got yours, here are all the games already available on the platform. 😀