Le truc que j'ai vraiment du mal à croire c'est que le jeu n'était pas développé par Retro Studios. Mais comme ils bossaient sur le portage de Tropical Freeze… En tout cas, vu que la même chose est plus ou moins arrivée à Breath of the Wild, autant dire qu'on peut s'attendre à un jeu d'anthologie.

☆ Gazette NintendObs – lundi 21 janvier 2019 – dimanche 27 janvier 2019.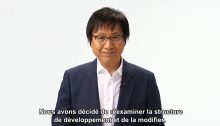 Chez NintendObserver, les commentaires sont sur Discord.
Cliquez sur Community pour en savoir plus. 🙂
…
…C'est pour jouer ? Achetez une Switch.
Et si vous l'avez déjà, cliquez sur Metroid Prime 4 pour tout ce que vous devez savoir sur le jeu. 😀