Team Mako, BackSquids, Alliance Rogue, Polarized, Huitante, Polderlantis, Overtime, Team ?, Hexagone and three other teams will duke it out in Paris this March.

☆ NintendObs Weekly – Monday, November 26, 2018 – Sunday, December 2, 2018.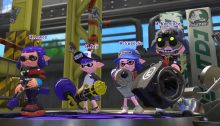 Team Mako set to represent the UK at the Splatoon 2 European Championship 2018-2019 Grand Final in Paris!

The Splatoon 2 UK Champions will splat it out in Paris on 9th-10th March.

27/11/2018

The Splatoon 2 UK Championship 2018 concluded at MCM Comic Con Birmingham over the weekend, with Team Mako emerging victorious.

After a weekend of some serious splatting during the MCM Comic Con in Birmingham, defending Splatoon 2 UK Champions, Team Mako, jetted out as eventual winners of the Octo League after beating Team 4D 3-1 in the final. Despite Team 4D's valiant efforts to close the gap after going down 2-0, Team Mako pushed forward and clinched the winning point in Clam Blitz to secure the championship! You can watch the Grand Final below:

The impressive Inkxiety Sirens placed third place overall, unable to topple Team 4D in the lower bracket final.

After the thrilling finale, Hisashi Nogami, producer of Splatoon 2, took to the stage to announce that the Splatoon 2 European Championship 2018-2019 Grand Final will take place in Paris on 9th and 10th March 2019.

Team Mako are just one of the 12 teams that will travel to Paris in March for the Grand Final, where one squid squad will be crowned as Splatoon 2 European champions. Going up against Team Mako will be 11 talented teams from across the continent, including French winners Alliance Rogue and Polarized from Spain, both of whom made it to last season's European finals only to leave empty-handed. Hoping for a repeat performance will be reigning German champions BackSquids, who were crowned last season's European champions and hit the world stage in the Splatoon 2 World Championship in Los Angeles, only to lose out to Japan in the final.

Teams from Italy, Russia, and the Nordic regions will compete in the coming months to join the below inktastic teams who already qualified for a shot at glory in Paris next March:

UK: Team Mako
Germany: BackSquids (Winner of the German national Splatoon 2 tournament at gamescom 2018)
France: Alliance Rogue (Winner of Paris Games Week)
Spain: Polarized (Winner of Madrid Games Week)
Switzerland: Huitante (Winner of Zurich Game Show)
Netherlands: Polderlantis (Winner of First Look)
Belgium: Overtime (Winner of Gameforce)
Austria: Team ? (Winner of Game City)
Portugal: Hexagone (Winner of Lisbon Games Week)

During the Splatoon 2 UK Championship 2018 Grand Final, Mr Nogami introduced a fresh report from the Squid Research Lab, revealing new weapons and abilities are coming to the game on 5th December as part of the Splatoon 2 4.3.0 update. You can watch the report below.

We hope you'll join us in wishing Team Mako all the best in Paris in March!

More than 70 teams competed during the whole of the Splatoon 2 UK Championship 2018! We'd like to thank all the competitors who took part and to the community who have been so enthusiastic during all the events!

— Nintendo UK News
Source: Nintendo UK.
At NintendObserver, the comments are on Discord.
Click on Community to learn more. 🙂
…
…Wanna play? Buy a Switch.
And if you've already got yours, click on Splatoon 2 for everything you need to know about the game. 😀