Surprise, surprise. It's a Super Smash Bros. collaboration Splatfest.

☆ NintendObs Event – The Game Awards 2018.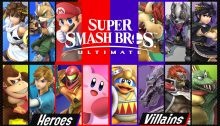 Urgent announcement from the Squid Research Lab!

NEW SPLATFEST APPROACHING!

To commemorate the debut of the Inkling as a fighter in Super Smash Bros. Ultimate, a collaboration Splatfest is on the way!

This time, the theme is simple, which side do you stand on: Team Heroes or Team Villains? Do you fight for justice and peace no matter the cost? Or do you stand with the misunderstood miscreants?

The Splatfest runs from:

12/14 (Fri) 8:00 p.m. PT – 12/15 (Sat) 8:00 p.m. PT

Once this Splatfest is finished, please pick up your Super Sea Snails by the afternoon of Dec. 20th. The Inkopolis News announcement for Frosty Fest will begin on Friday, Dec. 21st, so don't miss out!

— Squid Research Lab
Source: Splatoon's Tumblr.
At NintendObserver, the comments are on Discord.
Click on Community to learn more. 🙂
…
…Wanna play? Buy a Switch.
And if you've already got yours, click on Splatoon 2 for everything you need to know about the game. 😀