Yasunori Nishiki: "The concept behind this piece is the fusion of an orchestra and drums."

☆ NintendObs Weekly – Monday, October 22, 2018 – Sunday, October 28, 2018.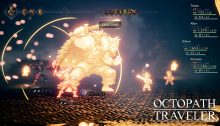 iTunes Preview: Decisive Battle I

Here's composer Yasunori Nishiki on writing "Decisive Battle I" for the Octopath Traveler soundtrack:

"I composed quite a few battle themes for Octopath Traveler, and each one has a different concept behind it. The concept behind this piece is the fusion of an orchestra and drums.

In the early stages of development, the plan was to have the battle pieces be fully orchestral arrangements that didn't make use of electric guitars, drums, or other modern instruments (later on, we realized that we needed drums to get players' blood pumping, so we ended up adding them in the end). This piece was composed in those early stages, and even though it does have drums, I was striving for a sound as close as possible to a true orchestral performance.

The intro kicks off with an atmosphere typical of a boss battle piece, evoking feelings of tension and mightiness befitting a formidable foe. After that, the drums come in, and in this part the focus is on the heroes and their mental state as they stand in battle. Here, I wanted to compose a musical phrase that would instill courage in the player.

For all of the boss battles, each protagonist has their own intro melody, which transitions seamlessly into the boss theme as the story scene segues into battle. As the dialogue advancement in the cut scenes happens at the player's pace, it's set up to have an interactive transition, but this really isn't all that uncommon in games today. Because of this, I wanted to go the extra mile, and I remember trying my hardest to compose something that would really get the player excited. As a side effect of this, all the boss battle themes with character-specific intros are locked in at 164 BPM, and the starting key for all of them is G minor, so this was another challenging point for me.

By the way, how many of you have noticed that this song has actually undergone some changes since it first appeared in the original demo? As a matter of fact, the drums in that version were sequenced, and final transition in the end was absent, with the song simply looping straight back to the beginning. Consider this some bonus Octopath trivia—anyone who knows this is a true Octopath expert!"

— Yasunori Nishiki
Source: Nintendo's Tumblr.
At NintendObserver, the comments are on Discord.
Click on Community to learn more. 🙂
…
…Wanna play? Buy a Switch.
And if you've already got yours, click on Octopath Traveler for everything you need to know about the game. 😀