The August update is here. Ancho-V Games, Bloblobber, Nautilus 47, Light Tetra Dualies and Custom Hydra Splatling.

☆ NintendObs Weekly – Monday, July 30, 2018 – Sunday, August 5, 2018.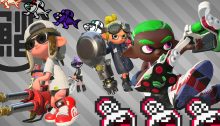 Greetings, fellow researchers! It's time for your monthly update that happens every…uh, month. Yes, that sounds right! The below stage and weapons will release tomorrow evening, July 31, @ 5pm PT.

Ancho-V Games (the hit developers of the addictive Squid Beatz 2) have opened up their office space once again! Inklings and Octolings should be on the lookout for a few renovations to this important location. Hopefully using their office like this won't delay future development of their games, but it seems like a risk they're willing to take!

There are also four new weapons:

Inspired by a bathtub, the Bloblobber lobs lawful blob bombs (hardly a way to make anyone clean in our opinion). It comes with the Splash Wall to provide cover from enemy attacks and the Ink Storm special to support your teammates.

Splatling fans take note! The Nautilus 47 is the first Splatling that allows you to store your charge while swimming in ink. You can bet your tentacles that sneaky players will use this to great effect. Rounding out the kit is the Point Sensor to help spot opponents, and the Baller special that rolls deep…into enemy territory.

The Light Tetra Dualies are beauties with the same specs as the Dark Tetra Dualies but also come with Sprinklers, (for automatic turf inkage) and the Autobomb Launcher (which is always nice to push forward with).

The Custom Hydra Splatling has the same destructive force as the original, so be careful! This kit is all about defense: Ink Mines and Ink Armor are a potent defensive combination.

— Squid Research Lab
Source: Splatoon's Tumblr.
At NintendObserver, the comments are on Discord.
Click on Community to learn more. 🙂
…
…Wanna play? Buy a Switch.
And if you've already got yours, click on Splatoon 2 for everything you need to know about the game. 😀