Here are the first rules for the Splatoon 2 World Championship.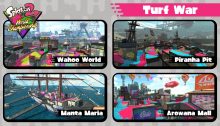 The Splatoon 2 World Championship is almost here, and we're excited to present a few more details about the tournament structure:

Seeding matches will take place using the Turf War game mode, with Semifinals and Grand Finals matches using Ranked Battle modes. Gear Secondary Abilities will be disabled throughout the tournament, meaning only the Main Ability will be active on each piece of gear. These rules combine a mixture of previous tournament rulesets, such as Splatoon Koshien 2018 and top western tournaments.

Opening Rounds (Seeding) – Monday 6/11 @ 3:30 p.m PT

All games will be played in Turf War
Teams will play 2 matches in a mini-seeding bracket
After play, the teams will be ranked by win-loss record
Of the two teams that finish 1-1, the higher seed will go to the team that won the first match
Four stages will be available. Once a stage is selected, that stage may not be selected again
After the first 2 matches, 2 stages will remain. The team that selects the remaining (third) stage will be selected by coin toss
Stage Selection: Wahoo World / Piranha Pit / Manta Maria / Arowana Mall

Semifinals Matchups – Monday 6/11

Matchups will include #1 vs #4 and #2 vs #3
The team that is first to reach 3 wins (out of 5 games) wins the match and advances to Grand Finals

1st game: Splat Zones – MakoMart
2nd game: Clam Blitz – Sturgeon Shipyard
3rd game: Tower Control – Snapper Canal
4th game: Rainmaker – Kelp Dome
5th game: Tower Control – Inkblot Art Academy

Grand Finals – Tuesday 6/12 @ 1:00 p.m PT

The team that is first to reach 4 wins (out of 7 games) wins the championship
Ranked Battle stages to be shared prior to Grand Finals

In case you missed it, below is a snapshot of competing teams:

Japan – GG BoyZ: Despite coming to E3 2017 as the clear favorites to win, Japan was upset by U.S. team Deadbeat. Dynamon returns to E3 2018 with this new team after winning out over 800 teams in Japan and is looking to bring the trophy home.

Australia/ New Zealand – Yeah Nah: Arriving as the undefeated champions of the 2018 AUNZ Splatoon 2 Cup, this new team includes 2017 Splatoon 2 World Inkling Invitational participant Latias, who returns to E3 2018 with the goal of scoring key upsets.

U.S. / Canada – SetToDestroyX: After defeating Japan in the 2017 Splatoon 2 World Inkling Invitational, key members of the U.S. team Deadbeat became SetToDestroyX and continued their dominance by winning tournament after tournament. They return to E3 2018 ready to defend their title after winning out over 500 teams from across the U.S. and Canada.

Europe – BackSquids: The winners of the Splatoon European Championship in Montreux, Switzerland, this German team brings a fresh name and team spirit aplenty to E3 as they try to take on the rest of the world.

Those who are unable to be in Los Angeles can still watch all the action livestreamed at https://e3.nintendo.com/ and on Nintendo's YouTube and Twitch channels.

— Squid Research Lab
Source: Splatoon's Tumblr.
At NintendObserver, the comments are on Discord.
Click on Community to learn more. 🙂
…
…Wanna play? Buy a Switch.
And if you've already got yours, click on Splatoon 2 for everything you need to know about the game. 😀