Stormy Ascent and Future Tense on June 29 for free.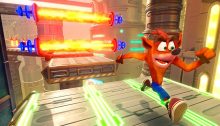 Activision E3 Preview – Crash Bandicoot N. Sane Trilogy

You can't have E3 without Crash Bandicoot… just try and stop him! In fact, he's got good news to share so read on for all the details!

June 11, 2018

Crash is mega-excited and Wumpa-Pumped for E3, and if you happen to be at the show you can catch the orange marsupial up to his usual antics at the show. He'll provide plenty of photo opportunities if you run into him, so keep your eyes peeled and your cameras ready, and be sure to tag #CrashingE3 to get in on the fun!

But he's not just at the show for the paparazzi… Crash, Activision, and Vicarious Visions have two pieces of great news to share with you!

First up, starting this week, PlayStation players can download the legendary Stormy Ascent level at no additional charge! Jump into this notoriously difficult level and see if you have what it takes to survive to the very end. Not only that, but Stormy Ascent will also be available at no additional charge on the Xbox One family of devices, the Nintendo Switch, and the PC via Steam starting on June 29!

But that's not all. Hold the phone, clear your calendars, and brace yourselves: there's an entirely brand-new level heading to the Crash Bandicoot N. Sane Trilogy! Starting on June 29, players can spin themselves into Future Tense at no additional charge, bringing an entirely new experience to the game.

Future Tense will be accessible via a new platform in the Warp Room of Crash Bandicoot 3: Warped, and will challenge players with dodging rockets, destroying robots, and leaping over lasers while ascending a massive, futuristic skyscraper. Just reading about it makes our orange fur stand on end!

So, to recap everything for you, PlayStation players of the Crash Bandicoot N. Sane Trilogy can download Stormy Ascent starting soon, and on June 29 players can play both Stormy Ascent and Future Tense on their platform of choice. That's a lot of Crash Bandicoot. Now we're worried that his head will get even bigger than it already is!

— Kevin Kelly at Activision
Source: Activision Blog.
At NintendObserver, the comments are on Discord.
Click on Community to learn more. 🙂
…
…Wanna play? Buy a Switch.
And if you've already got yours, click on Crash Bandicoot N. Sane Trilogy for everything you need to know about the game. 😀