Taking on the Queen's Cup event in Pokémon Duel.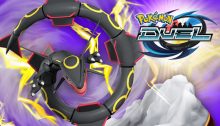 Battle for Shiny Rayquaza

Take on the Queen's Cup event to earn a Shiny Rayquaza in Pokémon Duel.

March 09, 2018

The latest Pokémon Duel update features the Queen's Cup event, and you'll definitely want to duel your way to one of its incredible rewards—the awe-inspiring Shiny Rayquaza!

The Queen's Cup event will last until 07:59 (UTC) on Tuesday, March 13, 2018. You'll need to duel with a variety of players and take on limited-time quests to accumulate points. It'll take a wealth of points to get top rewards like Shiny Rayquaza and [EX] Cube, so get dueling! There are also cool new deals in the Shop—including decks guaranteed to include Legendary Pokémon!

Shiny Rayquaza has arrived. In addition to its sleek look, Shiny Rayquaza's Ability sets it apart from regular Rayquaza. Shiny Rayquaza is sure to confound opposing Ultra Beasts—its Air Lock Ability prevents your Pokémon from moving to Ultra Space because of the Abilities and Attacks of opposing Pokémon.

Battle in the Queen's Cup. In addition to Shiny Rayquaza, you can earn other valuable prizes such as Gems and [EX] Cube by participating in this event.

Purchase Rocket Starter Set decks. Premade decks available in the Shop include powerful Legendary Pokémon figures and some useful plates, too. Each deck also features Shuppet, a deceptively powerful Pokémon featured in our first Pokémon Duel tips article.

Rocket Starter Set Deck A: Zapdos, Virizion, Dartrix, Jolteon, Shuppet, Ivysaur

Rocket Starter Set Deck B: Moltres, Cobalion, Torracat, Flareon, Shuppet, Charmeleon

Rocket Starter Set Deck C: Articuno, Terrakion, Brionne, Vaporeon, Shuppet, Wartortle

Check out the March Extra Gems Campaign. The March Extra Gems Campaign is under way. You can get extra Gems when you make certain Gem purchases until 07:59 (UTC) on Tuesday, March 13, 2018.

Pokémon Duel is available now for iPhone and iPad in the App Store, for Android devices on Google Play, and for Kindle Fire on the Amazon Appstore. Download it to begin the epic battle today!

— Pokémon News
Source: Pokémon.
At NintendObserver, the comments are on Discord.
Click on Community to learn more. 🙂
…
…Wanna play? Buy a 3DS.
That being said, click on Pokémon Duel for everything you need to know about the game. 😀