New Game Plus is here.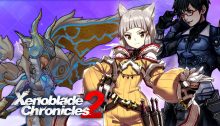 03.02.18

Two updates have come to Alrest today, and they both bring exciting content for Drivers everywhere. Here is what's in each update.

Free update (Version 1.3.0)

A more difficult mode, New Game Plus, has been added to the game:

Bonding with certain Blades from Torna will allow them to join your party.

Meeting certain Blades from Torna in the game world will allow them to join your party.

All Blades can be dispatched on Merc Missions.

Driver Hidden Affinities have been unlocked. New skills can also be learned.

Zeke's "Eye of Shining Justice" has been unlocked. (The skill can be learned by developing Zeke's Hidden Affinities)

Levels can now be decreased at inns, with a corresponding amount of bonus EXP being granted for the number of levels decreased.

Traveling Bards that will exchange Bonus EXP and special items have been added to various locations throughout Alrest.

Other Updates

Added a "simple mode" option allowing players to skip the lottery animation when bonding with Blades.

Added the ability to "lock" Blades so that they can't be mistakenly released.

Added a "Sort" option to the Blade List, Accessories, Aux Cores, and Poppy's Skill Parts.

Map icons will now appear on the mini map.

This update is available to owners of the Xenoblade Chronicles™ 2 game for free. To check if you have the update, please select the game's icon on the HOME Menu, press the + Button, and select Software Update.*

Of course, more DLC was also released today as part of the Expansion Pass (sold separately).

Helpful Items Pack 4

Upgrade parts for Poppi 2: 30,000 ether

Driver Essentials Set 3: Legendary Core Crystal (x8), Overdrive Protocol (x3)

By purchasing the Expansion Pass, you'll get instant access to the new content, past DLC content, and future DLC content (including a brand-new story in fall 2018).

— Nintendo What's New
Source: Nintendo.
At NintendObserver, the comments are on Discord.
Click on Community to learn more. 🙂
…
…Wanna play? Buy a Switch.
And if you've already got yours, click on Xenoblade Chronicles 2 for everything you need to know about the game. 😀