Splatoon 2 Direct news comin' atcha.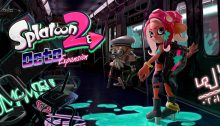 Breaking News from the latest Nintendo Direct! The first paid DLC is coming to Splatoon 2 this summer. Players will take on the role of an Octoling for the very first time in this large-scale downloadable content! This full-on single-player adventure spans 80 missions starring Agent 8, a new character who awakens without her memories on a dark subway platform. Navigate this mysterious underground test facility in a desperate battle to reach the surface of Inkopolis. Escape from these twisted depths, and it seems you'll finally be able to join multiplayer matches as an Octoling! How is this possible!? Does this mean we now need an Octopus Research branch too?

In addition to paid DLC, the Nintendo Direct presentation also included details on a major free update (Version 3.0) coming late April that will bring 100+ new pieces of gear, more stages rolling out throughout spring (Piranha Pit, Camp Triggerfish and Wahoo World) and a new rank (Rank X). Rank X appears to be an extreme rank, even higher than S+.

Be sure to check the link below for more:
http://nintendo.com/nintendo-direct/03-08-2018/#splatoon-2-dlc

— Squid Research Lab
Source: Splatoon's Tumblr.
At NintendObserver, the comments are on Discord.
Click on Community to learn more. 🙂
…
…Wanna play? Buy a Switch.
And if you've already got yours, click on Splatoon 2 for everything you need to know about the game. 😀