Introducing Toy-Con Garage, allowing you to make your own games by controlling inputs and outputs.

☆ NintendObs Event – Nintendo Labo unveiled.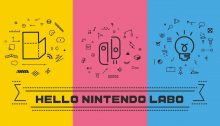 Nintendo unveils more ways to make, play and discover with Nintendo Labo

Three new videos offer an in-depth look at both the Robot and Variety Kits, as well as a first glimpse of Toy-Con Garage!

Version française ici : Nintendo dévoile de nouvelles manières de créer, jouer et découvrir avec Nintendo Labo. 😉

15/02/2018

15th February, 2018 – Nintendo recently announced Nintendo Labo for Nintendo Switch, a line of interactive build-and-play experiences designed to inspire imagination and discovery in creative minds and playful hearts alike. Today, Nintendo revealed some additional features for the first two Nintendo Labo kits – the Variety Kit and the Robot Kit – which launch across Europe on April 27th.

One new feature that is part of the software included with each Nintendo Labo kit is Toy-Con Garage. This mode introduces simple principles of technology in a fun and accessible way, allowing players to combine various simple inputs and outputs to invent their own new ways to play. Check out the videos below to find out more about the Variety Kit, Robot Kit and more!

Nintendo Labo – Overview Trailer

Nintendo Labo – Toy-Con 01: Variety Kit

Nintendo Labo – Toy-Con 02: Robot Kit

Join the Nintendo Labo video community on YouTube to be the first to see new videos and find out more about this new experience on Nintendo Switch!

— Nintendo UK News
Source: Nintendo UK.
At NintendObserver, the comments are on Discord.
Click on Community to learn more. 🙂
…
…Wanna play? Buy a Switch.
And if you've already got yours, click on Nintendo Labo for everything you need to know about the game. 😀