.52 Gal Deco. So nice of the Splatoon 2 team to bring back my main on the week of my birthday. 🙂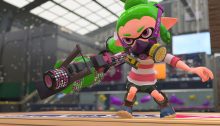 You may have deco-ed the halls last month, but tomorrow evening brings us the .52 Gal Deco! This weapon is a standard .52 Gal with some extra flair. It comes with Curling Bombs to smoke out opponents and the Sting Ray special for long distance foes. This kit is basically for a squid-of-all-trades, so players who like to get in the thick of things should give it a look!

— Squid Research Lab
Source: Splatoon's Tumblr.
At NintendObserver, the comments are on Discord.
Click on Community to learn more. 🙂
…
…Wanna play? Buy a Switch.
And if you've already got yours, click on Splatoon 2 for everything you need to know about the game. 😀