Marina winning her first European Splatfest. I knew it. (Most) European Marina fans are just holding her down.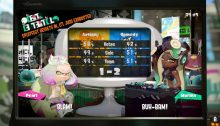 The global Action vs. Comedy Splatfest results are in, and Team Comedy is laughing all the way to the bank with a 2-1 win! Thanks to everyone who participated!

— Squid Research Lab
Source: Splatoon's Tumblr.
At NintendObserver, the comments are on Discord.
Click on Community to learn more. 🙂
…
…Wanna play? Buy a Switch.
And if you've already got yours, click on Splatoon 2 for everything you need to know about the game. 😀