The Dapple Dualies Nouveau.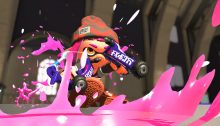 The Dapple Dualies Nouveau will arrive at Ammo Knights this evening! Although they have the same stats as the Dapple Dualies, they also have, shall we say, an artistic flourish? This kit also comes with the Toxic Mist sub weapon and the Ink Storm special. Sheldon recommends this weapon for players that like to sow chaos and reap the rewards!

— Squid Research Lab
Source: Splatoon's Tumblr.
At NintendObserver, the comments are on Discord.
Click on Community to learn more. 🙂
…
…Wanna play? Buy a Switch.
And if you've already got yours, click on Splatoon 2 for everything you need to know about the game. 😀