Shellendorf Institute has arrived.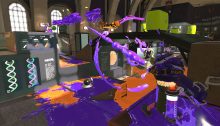 After months of surveillance, research indicates that the doors to the Shellendorf Institute will open for battles tonight! This new stage seems to hold education in high regard – after all, Inklings have enjoyed its informative exhibits for over 120 years. If you intend to take a field trip to this museum, be sure to check out the glass cases and marvel at the giant ancient fossil suspended from the ceiling!

— Squid Research Lab
Source: Splatoon's Tumblr.
At NintendObserver, the comments are on Discord.
Click on Community to learn more. 🙂
…
…Wanna play? Buy a Switch.
And if you've already got yours, click on Splatoon 2 for everything you need to know about the game. 😀