New York City and San Francisco. Submissions will be accepted until January 21, 2018. Dates and location have been announced across Europe as well, with more details on the specific European Nintendo websites.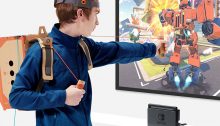 Nintendo Labo Studio

Be one of the first to try Nintendo Studio

Parents, do you…

Have one or more kids ages 6 to 12?

Live near San Francisco or New York City?

Want to attend a 3-hour Nintendo Labo Studio hands-on event?

If so, enter below for a chance to attend.

Space is very limited, so be sure to enter right away!

Select your location to get started:

New York City
February 2–3, 2018

San Francisco
March 2–4, 2018

Submissions will be accepted until Jan. 21, 2018, at 11:59 p.m. PT or until all spots are filled.

Nintendo Labo Studio FAQ

Which cities will this event be in?
New York City and San Francisco

What are the hours of the events?
There are specific session times that will be shared upon confirmation of attendance.

Who can attend these events?
Nintendo Labo Studio is designed for parents and kids ages 6-12 who live in or nearby the selected cities. Attendees will receive an official invitation from Nintendo via email.

How do I register to attend?
First, please express interest via the website in attending in either New York City or San Francisco. If space still permits, you will receive a survey requesting more information about your family and attendees will be selected from there.

What is the cost to attend?
There's no cost to attend – all events are free of charge. Attendees are responsible for any parking or transportation costs.

Can I bring friends or family with me?
If you are selected to attend, your invitation will only be for yourself and your applicable child(ren). Any additional guests, including spouses, will not be admitted without prior written authorization.

Will I receive a ticket?
There are no tickets for this event. Your name and the name(s) of your child(ren) will be on a list at registration. Be prepared to show ID for yourself to gain admittance.

How long can I stay at the event?
Each session's times will be listed in your confirmation email. Please expect to stay throughout the entirety of the session. If you think can't attend the full session, please email us in advance and we can try to reschedule you for a different session (space permitting).

What can I do if I registered for a session but can no longer attend?
Please notify us via email (rsvp@noa.nintendo.com) immediately. This is a small-group experience so we do hope that if you commit to attending, you're able to attend.

Are there any age restrictions?
The Nintendo Labo Studio is an experience designed for parents and kids ages 6-12.

I don't see my city on the list. Will you be doing additional events in the future?
We don't have any additional events planned at this time.

Will the event be photographed/videotaped?
Yes, the full event will be captured by both photo and video crews. You may be asked to share your thoughts on your experience on camera, which is optional.

Can I take pictures/video? Can I post on social media?
Yes, you're welcome to share your experience via social media and capture content throughout your experience.

Will Wi-Fi be provided?
Wi-Fi will not be provided at the event.

Is my invitation transferrable?
Invitations are non-transferrable.

Do I need to bring an ID?
Yes, please bring an ID for yourself – ID's for your children are not necessary.

Will I have to sign a release form?
Yes, you will have to sign a registration/release form for you and on behalf of your child(ren) prior to entering the event space. This is a pre-requisite for attendance so if you are not comfortable doing so, please notify us via email (rsvp@noa.nintendo.com).

Will there be a coat check?
There will be a secured space where you can leave any coats and large bags. Purses will be permitted inside the Nintendo Labo Studio.

Sources:
Labo Nintendo Events,
Labo Nintendo FAQ.
At NintendObserver, the comments are on Discord.
Click on Community to learn more. 🙂
…
…Wanna play? Buy a Switch.
And if you've already got yours, click on Nintendo Labo for everything you need to know about the game. 😀