From October 1 to 14.

☆ NintendObs Weekly – Monday, September 11, 2017 – Sunday, September 17, 2017.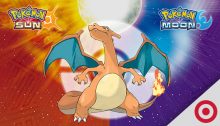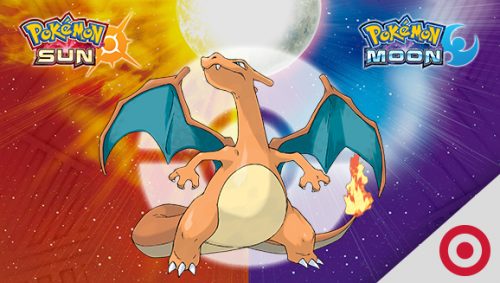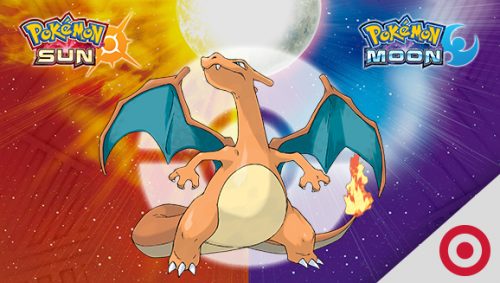 Charizard Roars at Target Stores

Add the fiery Charizard to your Pokémon Sun or Pokémon Moon game with a special code available at Target.

September 15, 2017

Heat up your battles with the fiery power of Charizard in your Pokémon Sun or Pokémon Moon game at participating Target stores. From October 1–14, stop by the electronics department at Target to get a special code card that will let you receive the Flame Pokémon in your game. This Charizard is ready for battle with the stat-boosting Dragon Dance move and three devastating attacks.

Charizard

Level: 50
Held Item: Red Card
Ability: Blaze

Moves:

Dragon Dance
Flare Blitz
Fly
Earthquake

To get Charizard in your Pokémon Sun or Pokémon Moon game:

Select Mystery Gift on the main menu.

Select Receive Gift.

Select Get with Code/Password, then Yes, and then Yes again to connect to the Internet.

Enter your password.

Watch as you receive Charizard.

Speak to the delivery person in any Pokémon Center to pick up Charizard.

Be sure to save your game!

The codes are only available while supplies last, so stop by Target from October 1–14 to add the blazing might of Charizard to your game.

Be sure to enter the code into your game and pick up your Charizard by February 4, 2018.

— Pokémon News
Source: Pokémon.
At NintendObserver, the comments are on Discord.
Click on Community to learn more. 🙂
…
And if you've already got yours, click on Pokémon Sun & Moon for everything you need to know about the games. 😀