Arms as a million seller as of June 30, 2017.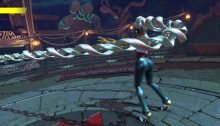 Consolidated Operating Results

During the first quarter of this period (April through June 2017), for Nintendo Switch, we released Mario Kart 8 Deluxe in April to favorable response, selling 3.54 million units worldwide. ARMS, released in June, is also off to a good start with 1.18 million units sold globally. In addition, The Legend of Zelda: Breath of the Wild, released in the previous period, has also continued to perform well, selling 1.16 million units worldwide (3.92 million units on a cumulative basis). Altogether the sales volume for Nintendo Switch hardware and software during this period came to 1.97 million units and 8.14 million units respectively.

For Nintendo 3DS, Fire Emblem Echoes: Shadows of Valentia was released in Japan in April and overseas in May and has been a popular title. Hardware sales were 0.95 million units (1% increase on a year-on-year basis) and software sales were 5.85 million units (31% decrease on a year-on-year basis).

As there were few new types of amiibo compared to the same period last year and few new titles offering amiibo functionality, amiibo sales were approximately 1.60 million units for figure-type and approximately 1.30 million units for card-type. In our digital business, sales of the digital versions of packaged software and downloadable content on Nintendo Switch showed steady growth, with total digital sales of 11.0 billion yen (41% increase on a year-on-year basis).

For smart devices, many consumers are continuing to enjoy Super Mario Run and Fire Emblem Heroes, which were released during the previous fiscal year. Our smart device and IP related income was 9.0 billion yen (450% increase on a year-on-year basis).

With this background, we had an operating profit of 16.2 billion yen and an ordinary profit of 30.9 billion yen against net sales of 154.0 billion yen (of which overseas sales were 113.8 billion yen or 73.9% of the total sales). The profit attributable to owners of parent for this quarter was 21.2 billion yen.

Source: Nintendo JP.
At NintendObserver, the comments are on Discord.
Click on Community to learn more. 🙂
…
…Wanna play? Buy a Switch.
And if you've already got yours, here are all the games already available on the platform. 😀