Splatoon 2 and Super Mario Odyssey as heavy hitters for the second half of the calendar year.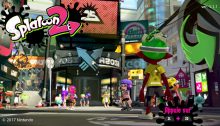 Consolidated Financial Forecast

For Nintendo Switch, we are planning worldwide releases for Splatoon 2 in July and Super Mario Odyssey in October, and there are several big titles from other software publishers planned for this period.

For Nintendo 3DS, we are launching New Nintendo 2DS XL across the globe in June and July as a new addition to the hardware lineup. On the software front, we are releasing Hey! Pikmin worldwide in July, and we plan to release Pokémon Ultra Sun and Pokémon Ultra Moon in November. There are also strong third-party titles on the way for Nintendo 3DS.

In addition, Super Nintendo Entertainment System: Super NES Classic Edition is a compact recreation of Super Nintendo Entertainment System, which launched in 1990, and it features a collection of 21 titles selected from the rich library of Super NES games. We plan to launch this system globally in September and October.

In our smart device business, we will introduce new game applications while also focusing on continued operations for our released applications so that consumers can enjoy playing them for a long time.

There is no revision to the financial forecast for this period originally published on April 27, 2017.

Source: Nintendo JP.
At NintendObserver, the comments are on Discord.
Click on Community to learn more. 🙂
…
…Wanna play? Buy a Switch.
And if you've already got yours, here are all the games already available on the platform. 😀