L'affrontement ultime aura lieu en 2018.

☆ Gazette NintendObs – lundi 25 septembre 2017 – dimanche 1er octobre 2017.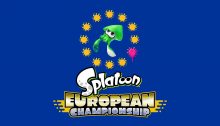 Un championnat européen de Splatoon 2 a été annoncé !

Des équipes de toute l'Europe vont pouvoir participer à des tournois locaux cette année pour tenter de se qualifier pour l'affrontement ultime de Splatoon en 2018. 

28/09/2017

Message aux joueurs enthousiastes de Splatoon 2 en Europe : c'est peut-être votre chance d'éclabousser le monde de votre talent, car Nintendo of Europe annonce un nouveau championnat européen de Splatoon.

Nintendo of Europe poursuit sa recherche des meilleures équipes du continent avec une série de tournois qui se tiendront dans les mois à venir. L'année prochaine, les équipes qualifiées s'affronteront dans une grande finale pour tenter de devenir la meilleure équipe de calamars d'Europe.

La finale de plusieurs tournois Européens se déroulera en direct sur scène, notamment lors des événements suivants :

Russie : Comic Con Russia, du 28 septembre au 1er octobre

Italie : Milan Games Week, le 29 septembre

Belgique : FACTS, le 22 octobre

Pays-Bas : Dutch Comic Con, le 19 novembre

Les équipes gagnantes de ces événements remporteront des maillots d'équipe Splatoon 2 exclusifs qu'ils pourront arborer fièrement lors de la finale européenne, l'année prochaine.

Nintendo of Europe lance un nouveau championnat européen de Splatoon 2 pour déterminer quelle est l'équipe de calamars la plus forte ! De plus amples informations seront annoncées ultérieurement.

Splatoon 2 est disponible en boutique et sur le Nintendo eShop de la Nintendo Switch.

— Nintendo France News
Source : Nintendo FR.
Chez NintendObserver, les commentaires sont sur Discord.
Cliquez sur Community pour en savoir plus. 🙂
…
…C'est pour jouer ? Achetez une Switch.
Et si vous l'avez déjà, cliquez sur Splatoon 2 pour tout ce que vous devez savoir sur le jeu. 😀