Another new band: Ink Theory.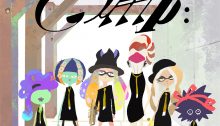 Discerning Inklings can't stop talking about the band Ink Theory. This classically trained, all-female 6-piece band creates jazz and samba-inspired battle music. They owe their unique sound to a blend of academic music theory and modern sensibilities. Ink Theory's eclectic approach makes them quite popular with young Inklings and middle-aged Inklings alike.

— Squid Research Lab
Source: Splatoon's Tumblr.
At NintendObserver, the comments are on Discord.
Click on Community to learn more. 🙂
…
…Wanna play? Buy a Switch.
And if you've already got yours, click on Splatoon 2 for everything you need to know about the game. 😀