July 28 is just one week away.
☆ NintendObs Weekly – Monday, July 10, 2017 – Sunday, July 16, 2017.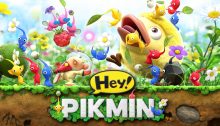 Discover the tiny world of the Pikmin at our official Hey! PIKMIN website!

Embark on a charming side-scrolling adventure on July 28th, only on Nintendo 3DS family systems. 

Version française ici : Découvrez le monde miniature des Pikmin sur notre site officiel Hey! PIKMIN. 😉

12/07/2017

Call upon the peculiar plant-like creatures known as Pikmin and help the shipwrecked Captain Olimar return home in Hey! PIKMIN, coming exclusively to Nintendo 3DS family systems on July 28th! What's more, you can unearth more information about this charming side-scrolling adventure at our brand new Hey! PIKMIN website. Oh, and don't forget: a new member of the Nintendo 3DS family – New Nintendo 2DS XL – releases alongside Hey! PIKMIN on July 28th, too!

In Hey! PIKMIN you'll use the plucky Pikmin to overcome challenging obstacles, defeat dangerous enemies and collect treasure – no task is too great for these brave little creatures! Head to our official Hey! PIKMIN website to learn about the game's story, the special abilities each type of Pikmin offer, amiibo compatibility, and more!

Free demo* available

A free demo* of Hey! PIKMIN is now available! You can download it from Nintendo eShop on your Nintendo 3DS family system, or via our official Hey! PIKMIN gamepage!**

Hey! PIKMIN will be available from shops as a downloadable version from Nintendo eShop on July 28th, only on Nintendo 3DS family systems. On the same day, the Pikmin amiibo and New Nintendo 2DS XL will also be available.

— Nintendo UK News
Source: Nintendo UK.
At NintendObserver, the comments are on Discord.
Click on Community to learn more. 🙂
…
…Wanna play? Buy a 3DS.
And if you've already got yours, click on Hey! Pikmin for everything you need to know about the game. 😀