Flow and Headspace.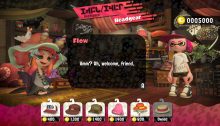 Now this right here is Flow. You'll find her working at Headspace, Inkopolis's spot for hats and helmets. From the way she talks, she might seem a bit loopy, but that's just part of her mysterious vibe. Word has it she's a bit older than most of her Inkling customers, and teasing them is one of her favorite pastimes. The little guy who lives among her tendrils is her erstwhile companion, Craymond, an unhinged emperor shrimp who's always got her back.

— Squid Research Lab
Source: Splatoon's Tumblr.
At NintendObserver, the comments are on Discord.
Click on Community to learn more. 🙂
…
…Wanna play? Buy a Switch.
And if you've already got yours, click on Splatoon 2 for everything you need to know about the game. 😀