Baller.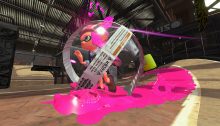 Baller! Yes, this is a new special weapon called the Baller! Roll around the stage in an oversized hamster ball that protects you from a certain amount of damage. If you hold down ZR, the ball will fill with ink, eventually causing an explosion on the spot.

— Squid Research Lab
Source: Splatoon's Tumblr.
At NintendObserver, the comments are on Discord.
Click on Community to learn more. 🙂
…
…Wanna play? Buy a Switch.
And if you've already got yours, click on Splatoon 2 for everything you need to know about the game. 😀